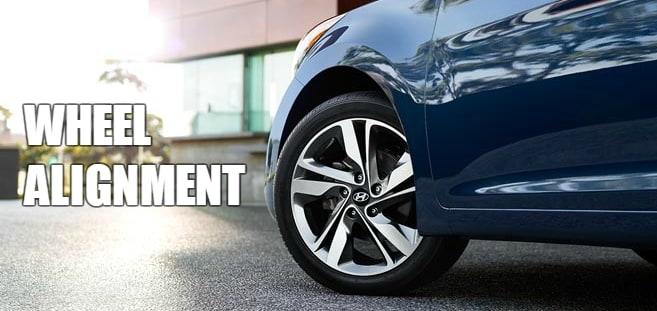 An Integral Part of Your Vehicle Maintenance Routine
Wheel alignments are one of the most common maintenance services that can be performed on a vehicle. But what exactly is a wheel alignment? Just like the name suggests, it's the adjustment of the steering and suspension components. In other words, making sure all the parts are aligned correctly! The purpose of a wheel alignment is to make sure your vehicle doesn't pull to one side as you're driving. This reduces excessive or uneven tire wear, and can help you save fuel!
Wheel alignments checks are recommended either annually, after you've had new tires put on, or if any of your suspension components have been adjusted.
Get Started Today
Trust the experts at Murray Hyundai Medicine Hat to keep you rolling right. Prices start at $99.95* for all makes and models, and the service only takes an hour. We'll keep you on the straight and narrow with our wheel alignment services!
Call today or book your appointment online.
*plus applicable tax and shop supplies